Objective review
REG.RU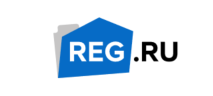 The official representative of this company is registered on Hostings.info. He carefully reads your reviews and tries to answer your questions.
Price:

Speed:

Reliability:

Support:
Country:

Russia

Year Founded:

2006

Customers:

900000 (~48.75 % market)

Servers:

Russia

Control panel:

ISPManager, cPanel, Parallels
Participants in ratings (the place occupied in the rating is indicated in brackets):
Countries:
Russia (5)
. Data centers:
Russian DCs (1)
Overview

Editor's opinion •
Marina Dolgova
Hosting Expert (4 years' experience)
Main responsibilities - working with customers, questions and reviews moderation, monitoring hosting companies' rating accuracy. 'A thousand miles journey begins with one step' is her motto.
First impression
Professional looking and user-friendly website. There is a big variety of hosting services for each category: Shared, VPS and Dedicated. The website has two versions: Russian and English. Unlike other hosting providers that offer bonuses only on the Russian site version, REG.ru has them on the English page as well. For instance, free SSL certificate for all hosting packages is shown on the English version. However, the free .ru or .рф domain name registration is displayed on the Russian version. Depending on what billing cycle you choose, you can get from 1 to 4 free one year domain registrations.
REG.ru offers Shared Linux and Windows hosting at a very low price: starting from $1.25 and $1.85 per month accordingly. Furthermore, they provide CMS (Joomla) and 1C Bitrix hosting. It's similar to Shared hosting but it is designed for a specific purpose.
VPS servers are divided into 4 categories: OpenVZ, Cloud Servers (KVM), Linux Xen and Windows. This is a very uncommon categorization. Moreover, it's possible to use SSD or SSD+HDD drives. Generally, all the prices are rather cheap for all categories.
As for Dedicated servers, they are cheaper in comparison to other hosting providers. The prices vary between $67and $318 per month. It's possible to customize the dedicated server configurations. In addition, a free SSL certificate and 4 ru or .рф domain names are included to all plans.
What's more, REG.ru provides GPU servers. This is quite a rare service. Another great feature offered is free domain email. 5000 mailboxes, mobile applications, web interface and a messenger are included to this package.
Trial period
The company offers a 14-day trial for all Shared hosting packages. Also, they have a specific moneyback guarantee for all of their packages: you can get a refund for the unused time. For example, if you purchased a hosting package for 3 months, used only one, the amount for two unused months will be refunded.
Billing cycle
For Linux and Windows Shared hosting monthly, semi-annual, annual and triennial cycles are available; for VPS- monthly, quarterly, semi-annual, annual, biennial and triennial; for Dedicated- monthly, quarterly, semi-annual, annual and biennial.
Control panel
ISPmanager Lite is included to each Shared, VPS and Dedicated servers hosting package. For Linux Shared hosting Plesk and cPanel are also offered. Besides, it's possible to install ISPmanager Business for VPS and Dedicated plans at an additional cost (for $7.50 and $3.75 accordingly). Moreover, 1C-Bitrix Web Environment, Plesk and Webmin are available for VPS. Also, you can use VPS and dedicated packages without control panel, if you don't need it.
Limits
Usual disk space, RAM and CPU core limitations are applicable for VPS and Dedicated packages. For Shared hosting packages, this limits are indicated in the plans description. Also, it is possible to use from 2.5% to 13% (depending on the package) of the servers resources. No additional limitations in ToS.
Security
REG.ru takes security seriously. All of their servers are protected from DDoS-attacks and hackers. Also, virus and malware scanning as well as firewall is included to each package. Moreover, you can purchase additional security features, such as anti-spam tools, during checkout. Backups are made every day for Shared hosting. For all other packages you will have to do it on your own.
OS
Linux Shared servers run on CentOS and Windows Shared - on Windows Server 2016. VPS packages support CentOS, Debian and Ubuntu installation. For Dedicated servers, it's possible to install any operating system at your choice. However, if you install CentOS, Debian or Ubuntu, you can advantage of the ISPmanager control panel. Also, Windows Server 2012 or 2016 both Standard and Datacenter can be installed at an additional cost.
Support
The company provides 24/7 ticket support. The chat support works every day from 9am till 8pm. The representatives are quick, polite and proactive. The knowledge base is also at a high level in both Russian and English.
Conclusion
Very good hosting provider indeed. The prices are very fair and the range of different hosting packages is enormous. Excellent for both newbies and developers thanks to their superb support.
Plans
| | | | | | |
| --- | --- | --- | --- | --- | --- |
| | SSD-VPS-1 | SSD-VPS-2 | SSD-VPS-3 | SSD-VPS-4 | SSD-VPS-5 |
| Price | 2.74 USD | 5.49 USD | 10.99 USD | 22.92 USD | 39.73 USD |
| Memory (RAM) | 0.5 Gb | 1 Gb | 2 Gb | 4 Gb | 8 Gb |
| DDoS Protection | - | - | - | - | - |
| Disk Space | 10 Gb | 15 Gb | 25 Gb | 30 Gb | 45 Gb |
| Platform | linux | linux | linux | linux | linux |
| Control panel | - | - | - | - | - |
| CPU | - | - | - | - | - |
| CPU Cores | - | - | - | - | - |
| | Details | Details | Details | Details | Details |
| | | | | |
| --- | --- | --- | --- | --- |
| | Xeon E3-1270v2 | 2 x Xeon Silver 4114 | 2 x Xeon Silver 4114 | 2 x Xeon Gold 6140 |
| Price | 85.61 USD | 313.41 USD | 389.85 USD | 706.31 USD |
| Memory (RAM) | 16 Gb | 64 Gb | 128 Gb | 256 Gb |
| DDoS Protection | - | - | - | - |
| Disk Space | 480 Gb | 960 Gb | 1920 Gb | 1920 Gb |
| Platform | - | - | - | - |
| Control panel | - | - | - | - |
| CPU | 3.50 GHz | 2.20 GHz | 2.20 GHz | 2.30 GHz |
| CPU Cores | 4 pcs | 20 pcs | 20 pcs | 36 pcs |
| | Details | Details | Details | Details |
testing
We conducted tests on the website
regru.hostings.info
with its help, we conduct testing and monitoring. Plan: Host-3 (299 RUB per month)
Uptime: 100 %
excellent
0 minutes of downtime per month
Speed: 3.12 sec
good
for processing image 2000x2000 px
Ping: 167 ms
good
to user in
USA (New York)
Australia (Sydney)

Brazil (Sao Paulo)

Canada (Toronto)

China (Nanjing)

Germany (Munich)

Hong Kong

India (Bengaluru)

Japan (Tokyo)

South Korea (Sodemungu)

Netherlands (Amsterdam)

Russia (Moscow)

Great Britain (London)

США, Калифорния, Лос-Анджелес

USA (New York)

South Africa (Johannesburg)
We asked a question and received the answer in 3 minutes
Submit review
What is written about in reviews of REG.RU most often?
Reviews
(19)
We don't delete honest reviews and don't charge anyone for this!

verified

France
25 june 2019
I used this hosting provider to host sites in Russia. Unfortunately when I first activated my services english translations were not so good, and I also had some problem verifying my account.

But service is quite good at that price, and if you need your service to cover Russian territory this is one of the best choices.


I appreciate their offer for VPS: you can choose not only various plans but even different hypervisors, such as KVM, OpenVZ, and XEN Server.


Russia
27 dec. 2017
I've used this provider for some period of time.

Everything is good, stable and convenient,

but as they say, if you want the best, you have to pay for it.

If it were not for the high price. I would have used it ...


Ukraine
27 dec. 2017
Recently bought a domain from them, and then we moved the site to their hosting service.

For 2 weeks I've had no complaints, everything works great.

If there are problems I will let you know.


Turkmenistan
22 dec. 2017
I have tried a lot of different hosting for my Internet diaries, but

REG.RU, in my opinion, is the most reliable of all Russian hosting providers and they register domains very quickly!


I am completely satisfied and host 8 sites on this service.


Russia
16 dec. 2017
It's a great company, good support.


Russia
1 dec. 2017
Well done guys, an excellent range of services.


Russia
11 nov. 2017
I've used them for more than a year (virtual hosting): I give it a solid 4+,

I've only had serious technical problems 2-3 times (when sites were unavailable).

Technical support is adequate, it solves problems during the day (including on weekends).

Retail prices are slightly inflated,

there are interesting opportunities for partnerships.


Ukraine
2 oct. 2017
Site is convenient, everything is located in one place.

Thanks to LetyShops, I got 50 rubles refunded when I purchased my domain here. Timely maintenance, backup, in general, everything is fine, I would recommend.


Russia
23 sept. 2017
Great work, guys, keep it up!


Russia
18 sept. 2017
2 years ago I started working with reg. I haven't had to contact technical support, and there have been no failures either. Thank heavens, of course!

I'm really pleased with my choice.
SIMILAR
Check out companies here from the same country, with similar scores and customer numbers.