Objective review
REG.RU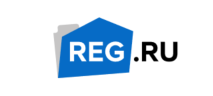 The official representative of this company is registered on Hostings.info. He carefully reads your reviews and tries to answer your questions.
Price:

Speed:

Reliability:

Support:
Country:

Russia

Year Founded :

2006

Customers:

900000 (~48.59 % market)

Servers:

Russia

Control panel:

ISPManager, cPanel, Parallels
Participants in ratings (the place occupied in the rating is indicated in brackets):
Data centers:
Russian DCs (2)
Overview
REG.RU is one of the largest domain registrars in Russia. The company has provided hosting services since 2006. In addition to registering domain names, it also provides services for virtual hosting, VPS/VDS hosting, server leasing, etc. You can get a free site builder with more than 100 templates and a feedback form, and for a small fee, you can upgrade to more options.
Plans
Unfortunately, there is no information for this provider's pricing and plans. Search for it on their website.
testing
We conducted tests on the website
regru.hostings.info
with its help, we conduct testing and monitoring. Plan: Host-3 (299 RUB per month)
Uptime: 100 %
excellent
0 minutes of downtime per month
Speed : 3.37 sec
good
for processing image 2000x2000 px
Ping : 118 ms
excellent
to user in
USA (New York)
Australia (Sydney)

Brazil (Sao Paulo)

Canada (Toronto)

China (Nanjing)

Germany (Munich)

Hong Kong

Japan (Tokyo)

South Korea (Sodemungu)

Netherlands (Amsterdam)

Russia (Moscow)

Great Britain (London)

USA (New York)

South Africa (Johannesburg)
We asked a question and received the answer in 3 minutes
Submit review
What is written about in reviews of REG.RU most often?
We don't delete honest reviews and don't charge anyone for this!


IP: 5.8.236.86
27 dec. 2017
I've used this provider for some period of time.

Everything is good, stable and convenient,

but as they say, if you want the best, you have to pay for it.

If it were not for the high price. I would have used it ...


IP: 77.121.80.218
27 dec. 2017
Recently bought a domain from them, and then we moved the site to their hosting service.

For 2 weeks I've had no complaints, everything works great.

If there are problems I will let you know.


IP: 217.174.234.11
22 dec. 2017
I have tried a lot of different hosting for my Internet diaries, but

REG.RU, in my opinion, is the most reliable of all Russian hosting providers and they register domains very quickly!


I am completely satisfied and host 8 sites on this service.


IP: 46.147.79.213
16 dec. 2017
It's a great company, good support.


IP: 95.153.173.130
1 dec. 2017
Well done guys, an excellent range of services.


IP: 95.215.231.230
11 nov. 2017
I've used them for more than a year (virtual hosting): I give it a solid 4+,

I've only had serious technical problems 2-3 times (when sites were unavailable).

Technical support is adequate, it solves problems during the day (including on weekends).

Retail prices are slightly inflated,

there are interesting opportunities for partnerships.


IP: 5.248.93.17
2 oct. 2017
Site is convenient, everything is located in one place.

Thanks to LetyShops, I got 50 rubles refunded when I purchased my domain here. Timely maintenance, backup, in general, everything is fine, I would recommend.


IP: 176.212.96.160
23 sept. 2017
Great work, guys, keep it up!


IP: 37.147.38.103
18 sept. 2017
2 years ago I started working with reg. I haven't had to contact technical support, and there have been no failures either. Thank heavens, of course!

I'm really pleased with my choice.


IP: 89.222.217.252
4 sept. 2017
We've used this hosting for approx. two months for our legal website with small to average traffic, and so far everything is very good.
Pros:
1.

Stable work, no reports of unavailability have ever been sent to us.


2. All in one place, from domains to hosting.
3. Convenient restoration from backup from any date for the last 30 days.
4. You can choose the version of PHP.

Minuses:
1. Expensive domain renewal.
2.

Not always an understandable interface. Part of the functionality in the hosting panel, and part should be searched in the panel on the REG.RU website - recovery from backups, for example.
SIMILAR
Check out companies here from the same country, with similar scores and customer numbers.