CDN Service Providers
This rating contains 81 genuine user reviews about 35 hosting companies, also our experts (3) performed tests (6)


CDN (content delivery network) is a network of servers located all over the world linked together to deliver content as quickly as possible. To minimize the distance between the visitors and your website's server, a CDN stores a cached version of its content on all of these servers. You can find more details about CDN's pros and cons below.
These hosting companies are rated the best in July 2019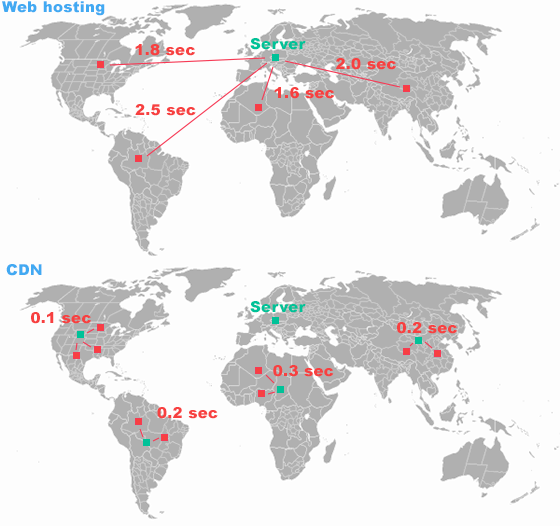 How does CDN work?
First, you need to change the domain nameservers (they will be provided by the CDN service provider).
Then you have to enter the required host records (A, MX, CNAME etc) to point the domain to your hosting. You can just copy them from your hosting provider's control panel.
All of your files will be hosted on the same server they were hosted before.
A cached version of your website's content is uploaded to multiple servers worldwide.
When a user visits the site, the system finds the nearest server to him and loads the site promptly.
CDN can significantly speed up your website. CDN service providers can also include anti-DDoS protection or a firewall (depending on the company) to their packages.
CDN Pros
Website speed up
As cached copies of the site are stored on various servers in different countries, the ping time reduces significantly. For instance, a user from Australia doesn't have to wait 1-2 seconds until the site hosted on US servers opens. Also, web pages load promptly because static content (for example, styles, pictures) was cached previously.
Anti-DDoS protection
Usually, CDN service providers offer anti-DDoS protection. CDNs are built to analyse and absorb unusual traffic spikes. In case of a sudden traffic increase, special PoPs (points-of-presence) consume the DDoS traffic.
Fault-tolerance
If the home server of your site stops working, your website will still be partially available. The visitors will see the cached version of your site that is loaded from the nearest server.
CDN Cons
Propagation
If you update your website content, it may take several hours for the changes to take effect (about 1-4 hours). The caching time can be edited on the side of the CDN service
Dynamic content is not cached
The dynamic content (for example, when a user opts out certain goods using website filters) is not cached. It will be retrieved from the origin server. Only the static website content is cached.
IP ban
Certain sites can be banned in some countries. In case a banned site and your site share the same IP address (of a CDN server), your site will be banned too. To resolve this issue, you need to either purchase a dedicated IP address or contact the CDN service provider's support.
The best companies in 2019
| Rank | Hosting | Customers | Score | Reviews |
| --- | --- | --- | --- | --- |
| 1 | | | 4.3 | 6 |
| 2 | | 30000 | 4.5 | 10 |
| 3 | | | 4.0 | 5 |
| 4 | | 5200 | 0.0 | 0 |
| 5 | | | 5.0 | 1 |
| 6 | | | 4.5 | 1 |
| 7 | | 1000 | 0.0 | 0 |
| 8 | | | 4.3 | 1 |
| 9 | | | 0.0 | 0 |
| 10 | | | 0.0 | 0 |