CDN services
This rating contains 36 genuine user reviews about 33 hosting companies, also our experts (3) performed tests (5)


CDN (Content Delivery Network) is a hosting technology used to make a site open equally fast regardless of the user's location. This is achieved by placing servers around the world and caching the site. You can find more details about the advantages and disadvantages, as well as the technology settings, under our comprehensive rating.
These hosting companies are rated the best in May 2019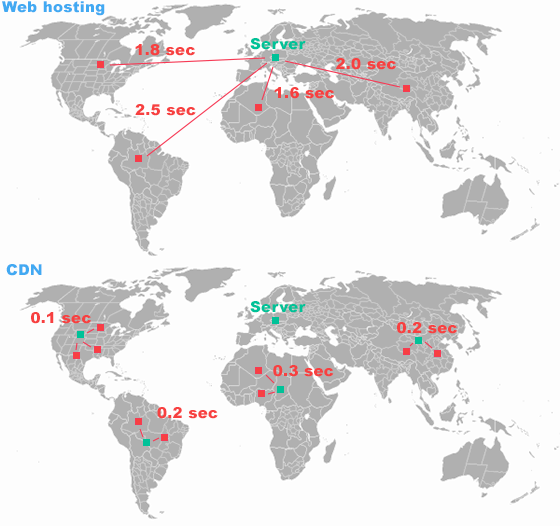 How does CDN work?
You change NS-domain records to new ones (they will be provided with CDN-hosting).
You write down necessary or copy existing DNS records (A, MX, CNAME and others).
Your site will remain on the same server where it was.
Cached parts of the site are downloaded to the servers around the world.
The system finds the nearest server for the user and downloads the site as quickly as possible from it.
The system helps to repel DDoS attacks, configures a Firewall, and speeds up the site as a whole.
Advantages of CDN Hosting
Increased Site Speed
Due to the fact that copies of the site are hosted on servers in different countries, the ping is significantly reduced. For example, a user from Australia doesn't have to wait 1-2 seconds until the site from the US opens. Also, it provides faster page loading due to the fact that part of the site is transferred to the user from the cache.
Protection against DDoS attacks
As a rule, CDN-hosting provides protection against DDoS-attacks due to traffic filtering. For example, users with suspicious activity undergo additional verification and their access to the site is blocked.
Fault tolerance
If the home server for your site stops working, then users won't see the error message. They will see the cached version of your site.
Disadvantages of CDN technology
Delay in caching
If you update the site, it may take several hours for users to see the final changes (usually 1-4 hours and this option is configured).
Dynamic content is not cached
All dynamic content (for example, when the user decides to select certain goods) will not be cached and the request will be sent to the main server. Only the static content of the site is cached.
Problems with locking
There are cases when in a particular country bans sites. And if a site like this turns out to be your "neighbor" on an IP CDN-hoster, then your site will also be blocked in this country. This problem is solved by purchasing a plan with a dedicated IP address or contacting the support service.
The best companies in 2019
| Rank | Hosting | Customers | Score | Reviews |
| --- | --- | --- | --- | --- |
| 1 | | | 3.5 | 1 |
| 2 | | 30000 | 3.5 | 2 |
| 3 | | | 4.4 | 2 |
| 4 | | 5200 | 0.0 | 0 |
| 5 | | | 0.0 | 0 |
| 6 | | | 4.5 | 1 |
| 7 | | 1000 | 0.0 | 0 |
| 8 | | | 0.0 | 0 |
| 9 | | | 0.0 | 0 |
| 10 | | | 0.0 | 0 |